Santa's Rocking Stocking Catnip Joints: Put the Ho-Ho-Ho in the Holidays
Stark Raving Cat's New Gifts for Cat Lovers
Santa stocking with red and white catnip joints, matching Neko collars and earrings, and hip new gifts rock the holiday gift lists for cat ladies and cat dudes.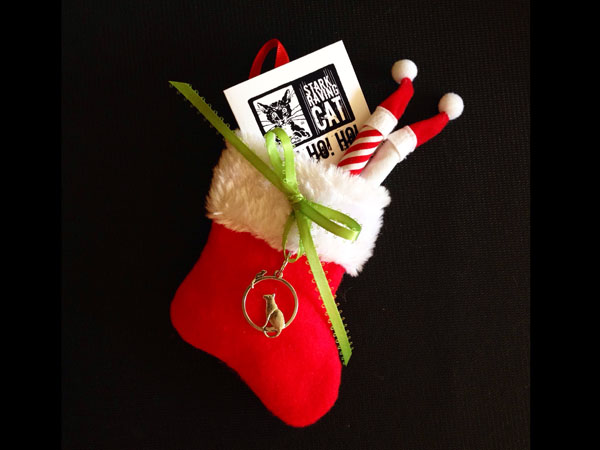 Austin, TX – Catnip Joints look real enough to land you in jail. But these Stark Raving Cat toys are filled with cat weed – super-potent, premium catnip – legal in all 50 states (for recreational use). Cats and cat-lovers adore them, and this year Santa's giving them an extra boost.
A festive new Santa stocking adds extra cheer to catnip joints, but don't let Fluffy attack them just yet. "Cats instantly smell them. Some rip the joints right out of the mailers," says Kate Heyhoe, founder of StarkRavingCat.com, home of the original Catnip Joint.
Santa's Rocking Stocking Catnip Joints is a limited edition set for hanging on tree or mantle. A red-and-white pair of catnip joints (topped with tiny Santa caps) peeks out from a traditional red stocking. Plus, there's a bonus gift: a silver cat-and-mouse charm hangs from the front, and doubles as a collar charm or pendant.
"You can personalize the stocking by tucking in your own cat treats – in case your cat gets the munchies," notes Heyhoe. "Enjoy the stocking year after year – if your cat doesn't destroy it first." Santa's Rocking Stocking Catnip Joint set sells for $15.00
What do cats think of catnip joints? "Cats don't actually smoke the catnip joints, but they mouth, sniff, drool, and slobber all over them. Toss one in the air like prey, and watch kitty bat at it; then toss another, and another, and another. The more you toss, the crazier your cat becomes," Heyhoe says. Social media posts on Instagram, GooglePlus, and YouTube show cats grasping a joint between the paws and holding it to the mouth. "Mega-cute and so real looking," she adds.
Catnip Joints also come in 3-Pack and 5-Pack sets; a Nirvana Pack with Indian stash bag; and as Rainbow Joints in six happy colors. "Premium Catnip. No fillers, just leaves and buds" reads the Stark Raving Cat label. They're made in the USA, using a hand-sewn cotton case. "That's it, nothing more," notes Heyhoe.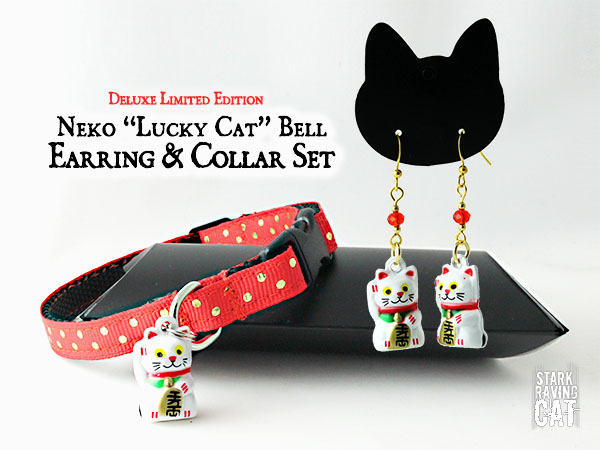 About StarkRavingCat.com
StarkRavingCat.com specializes in small batch, artisanal gifts for cats and cat-lovers. "The New York Times has said today's modern cat ladies are hip, and cat lady chic is a definite look. This year we're seeing cat men in the spotlight. Guys with cats, cat dads, and cat dudes are trending," explains Heyhoe. "Men who love cats especially love catnip joints and related paraphernalia, like our Telescoping Clips. Cat ladies like to make fashion statements. So we designed matching earrings and cat collars, with little Neko bells, for hip cats and their cat ladies." Neko is the Japanese Lucky Cat symbol, and a favorite icon of cat people.
If you want to give something truly unique, Stark Raving Cat has a list of gift solutions for cat dudes, cat ladies, cats and kittens, and every cat-lover on Santa's list. "Our products are not mass produced, each is designed in-house, and made by hand with love and care," notes Heyhoe, "so you can pretty much guarantee your gift will stand out, and put the ho-ho-ho in the holidays."
Stark Raving Cat's Gifts for Cats and Cat Lovers includes:
• Santa's Rocking Stocking Catnip Joints, with red-and-white catnip joints, a silver cat-and-mouse charm, and red stocking for hanging on tree or mantle (Limited Availability)
• Matching Neko Bell Earrings and Cat Collars, with Lucky Cat bells for fashion conscious cat ladies and cats (Basic Set or Deluxe Set with Gift Packaging).
• ACME Cat Bombs and ACME TNT Sticks, to fire up cats in explosive play
• Catnip Joint Sets, 3-Pack or 5-Pack, for cat lovers of all types
• Nirvana Pack, catnip joints in a handmade Indian stash bag, with extra catnip
• Rainbow Joints, in six designer colors (including Pink Phloyd, Mendocino Gold, Orange Sunshine) with Indian stash bag made from sari scraps ($19.50)
• Telescoping Wand with Clip and Cord, extends 32 inches with six feet of stretchy cord for attaching to BATNIP, catnip joints, or other toys
• Paraphernalia Pack, Telescoping Wand with Catnip Joints gift set
Stark Raving Cat products are handmade in small batches and in limited supply. Find them online at StarkRavingCat.com or on Etsy at the StarkRavingCat store.