Main Content
Handmade Cat Toys & Gifts
Meow!
Thanks for visiting StarkRavingCat.com: a little online store for Cats and Cat Lovers, with cool stuff like Catnip Joints, Glow in the Dark Kickers, colorful Scatterballs and mostly handmade crazy cat stuff!
Each catnip joint is unique: hand "rolled" with love and care, near Austin, Tx. Every product has been approved by our own Stark Raving Kittens and a growing family of Stark Raving Cats nationwide.
To use: Wake up your cat. Run a joint under your cat's nose, like a fine cigar. Toss a joint toward your cat, high in the air, like prey. Then toss another, and another, and another...and remember to always supervise your cat's playtime.
Etsy, too!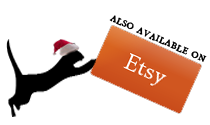 Have an Etsy account? If you prefer you can visit our other store at Stark Raving Cat on Etsy. Etsy rates us as one of their Star Sellers with 98% 5-star ratings and 100% on-time shipping.
Reviews on Etsy
Our average product review on Etsy over the past nine years is 5 out of 5 stars.
Catnip Joints...reviewed by Dana
My cat is 18 years old, and not much gets her really excited…but the catnip joints do. After batting them around most of the evening, she is enjoying laying on them now.
Screaming Meemies Toy...reviewed by Maj
My own screaming meemies are super pleased, I've wanted to buy this little crazy toy for years- glad I finally did!
Scatterballs Cat Toys...reviewed by Karen
This is the 2nd time that I've ordered these and my cat loves them so much!! He usually ends up batting them under the couch or entertainment center and than the search is on…because he just looks for them until they're found!! Placed the order on Saturday and received it on Monday, so shipping is super fast!! Might have to order the larger ones for his Christmas stocking 😻
Baby Yoyo Catnip Toy...reviewed by Melissa
Gifted to a star wars and cat lover, kitty loved it!