Main Content
Handmade Cat Toys & Gifts
Meow!
Thanks for visiting StarkRavingCat.com: a little online store for Cats and Cat Lovers, with cool stuff like Catnip Joints, Glow in the Dark Kickers, colorful Scatterballs and mostly handmade crazy cat stuff!
Each catnip joint is unique: hand "rolled" with love and care, near Austin, Tx. Every product has been approved by our own Stark Raving Kittens and a growing family of Stark Raving Cats nationwide.
To use: Wake up your cat. Run a joint under your cat's nose, like a fine cigar. Toss a joint toward your cat, high in the air, like prey. Then toss another, and another, and another...and remember to always supervise your cat's playtime.
Etsy, too!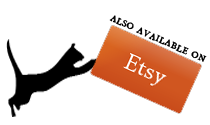 Have an Etsy account? If you prefer you can visit our other store at Stark Raving Cat on Etsy. Etsy rates us as one of their Star Sellers with 98% 5-star ratings and 100% on-time shipping.
Reviews on Etsy
Our average product review on Etsy is 5 out of 5 stars.
Catnip Joints...reviewed by Ashley Batton
My cat is seriously obsessed with these and I highly recommend them to anyone with a high energy feline. Our cat is about a year old and loves to get into stuff. With these, I just throw one in a box, one under the couch and keep one handy. It keeps her busy for hours. Bonus – it looks hilarious when she runs around with it stuck out of her mouth like a joint. Love these.
Scatterballs Cat Toys...reviewed by Annette
My bad boy cat, Banjo, refuses to allow his sister to touch his scatter balls. He carries them to the top of the stairs, knocks them down, and chases after them. He hides them everywhere. Hunts for them everywhere. I have lost track on how many are hiding in our home.
Glow in the Dark Kicker...reviewed by Natalia V.
My boy loved it the moment it arrived! Very good quality! He gives it some good kicks with his talons, and no signs of wear yet.
Catnip Joints...reviewed by Ashley Rafaela
Omigosh my cats LOOOVE these!!! Its so funny to see how crazy they get over these catnip joints! Will continue enabling their habits!!!
Scatterballs Cat Toys...reviewed by Karen
My cat loves these so much I had to get more! They're pretty cool looking too.
Baby Yoyo Catnip Toy...reviewed by Melissa
Gifted to a star wars and cat lover, kitty loved it!