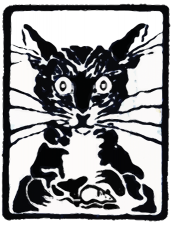 Stark Raving Cat
Definition: 1) a condition in which a person is cat-obsessed; 2) an intensely feline feline; 3) a crazy cat; 4) a maker of cool toys, treats, and gifts for cats and the cat-obsessed.
Each catnip joint is hand "rolled" with love and care, near Austin, Texas.
To use: Wake up your cat. Run a joint under your cat's nose, like a fine cigar. Toss a joint toward your cat, high in the air, like prey. Then toss another, and another, and another…
Catnip is legal in all 50 states, for recreational use.
Approved by our CEO Tamale and a growing family of Stark Raving Cats nationwide.
StarkRavingCat.com: Home of the original catnip joint, and other raving good products. SRC-branded products are exclusively designed by or for Stark Raving Cat (SRC), and sold online and wholesale.
Beside this website we also have stores on Etsy and Amazon Handmade. Our products are also carried by a select group of independent retail pet stores and cat cafes in cities like New York, Los Angeles, Chicago, Austin, Seattle, and Portland OR. Contact us at cat_AT_starkravingcat_DOT_com, or at Stark Raving Cat, PO Box 2261, Wimberley, TX 78676, to see if there is a store near you.
Privacy Policy | Terms of Service
Meet Stark Raving Kate
I've given up food for cats.
Best Job Ever! For years, I've been a foodwriter, written eight books, and won some book and art awards. A clowder of cats wandered into my life (literally) decades ago. Now I make specialty cat toys and gifts, at Stark Raving Cat.
The prospect of being labeled a "cat lady" kept me from shouting out my love for these wacky, tender little beasts. But no more: I've embraced my inner cat.
Cats are funny. Like me, they have a dry sense of humor. They give, they take, they sleep. And they play!
Tamale is our CEO and Chief Product Tester. Founding brothers Wolfie and Pookie reached 20 years old; when these two geezers played with a toy, we knew it was a winner! Their mom Zombie also tested prototypes of our toys, and I think they kept her young and spry (she lived for 17+ years, some of it as a feral).
Why did I start Stark Raving Cat? The problem with many cat toys, especially catnip toys, is: they don't work. Sure, you need to engage a cat so it plays, but I've wasted tons of money on toys that just have no kitty appeal. What are these designers thinking?!!!
Cats are finicky. I can't guarantee all cats will love Stark Raving Cat toys, but our products are rigorously cat-tested. If they don't pass our Kitty Committee, we don't sell 'em.
Our cat toys are not "made in China." Our toys are handmade near Austin, Texas, in the USA: we know exactly what goes into them. Our cats and helping hands get paid fair wages. And we feature only premium catnip in all our products.
Wake up your own stark raving cats – let's play together!
– Stark Raving Kate (Heyhoe)
Our Kitty CEO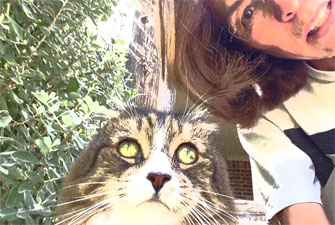 Tamale, Chief Product Tester and CEO – Tamale is my closest buddy. She's smart, sassy, and glued to me most of the time. I nursed her back to health when she was a teensy kitten: her tail was broken in two places and her ears chewed off; but she looked at me with big blue eyes that said "I want to live!" And so she did. She's spunky, feisty, sweet, and a real cutey. (We found her on the street at the Tamale Festival in Indio, California. Hence her name.)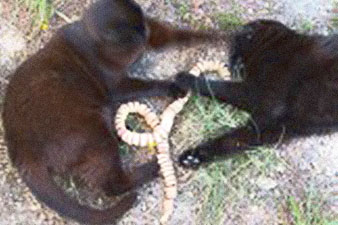 Wolfie, Founder, RIP – Wolfie was a sweetie-pie. The only cat that din't hide when strangers showed up. Wolf-Boy and his mom Zombie formed a black-cat clique. They were best buddies, and are now reunited in Kitty Heaven.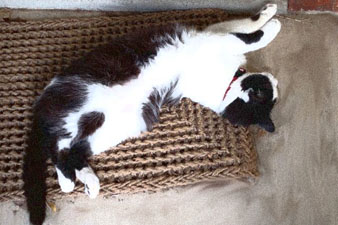 Pookie, Founder, RIP – Even after Pookie got old and deaf, that didn't stop him from whacking at catnip joints or high-flyer wands. He was a very willful cat: the only member of our original clan who could scale up and over our 6-foot chain link fence around the back yard to keep coyotes out. He was also a talker and could be very affectionate…when he felt like it. As you can see from the photo, he was made of rubber.