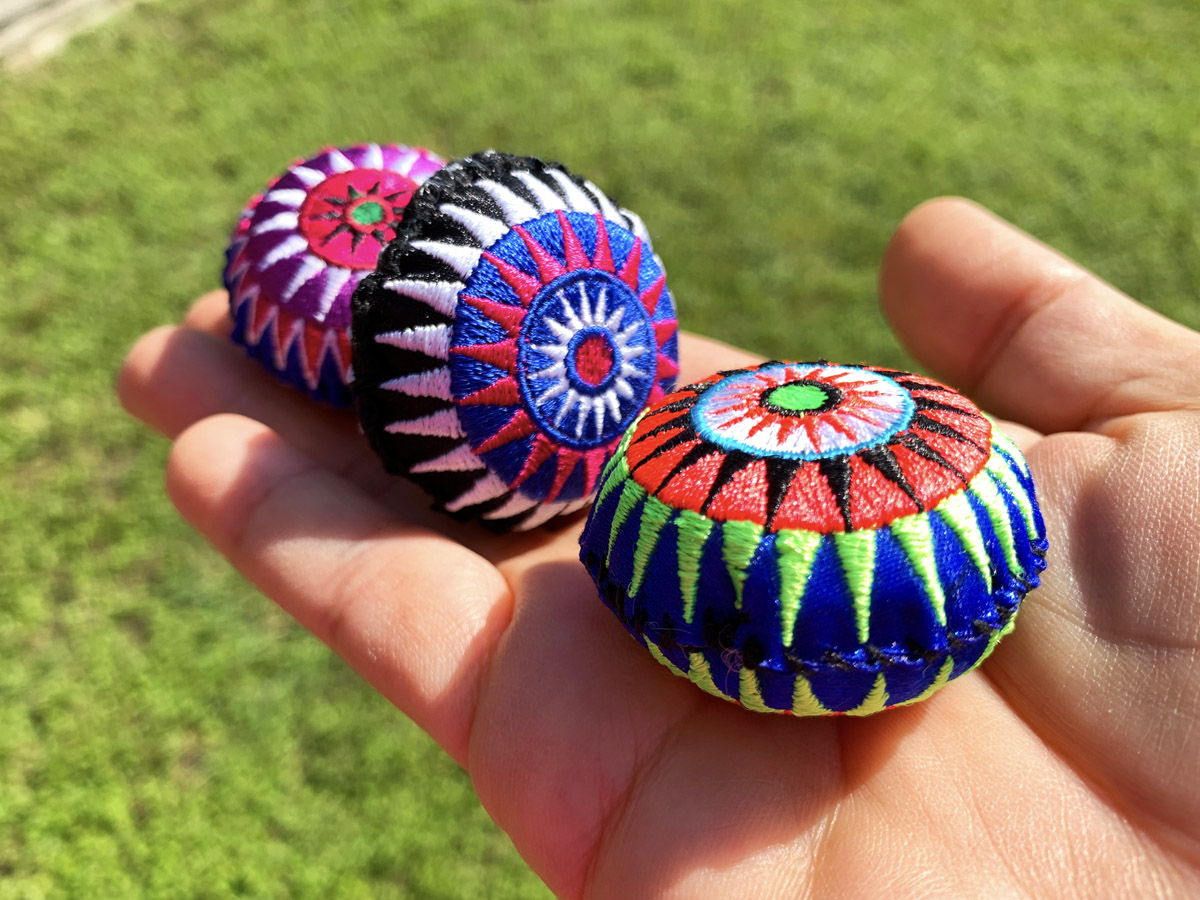 Scatterballs are handmade in Thailand by Hillside Hmong Tribes
Exclusively for Stark Raving Cat
Scatterballs: Why are they so rare?
Fancy embroidered circles are traditionally used to decorate clothing. Hmong families make them into these balls to sell as ornamental goods. Cats love to chase them — though some collections may be too beautiful to lose under the couch. We appreciate them just for their unique beauty and handiwork. Vintage Scatterballs, which may show signs of "wabi-sabi" aging, can be up to 30 years old, and are nearly impossible to find these days. In fact, since the pandemic, it's difficult to find any Scatterballs, and the collections we sell now are ones we've been collecting for years.
Warning: Do not eat (that goes for you and your cat – small Scatterballs can be choking hazards). Always supervise your pets with toys, and remove toys when not in use.
Who Are the Hmong, and why do they embroider?
The Hmong people have no nation, no country, no state. They are indigenous to the mountains of Southeast Asia and China, and are tribal, with robust cultural traditions, elaborate clothing, and handsewn "story cloths," which relay their history. Before the 1950s, the Hmong had no known written language, until missionaries helped them develop one. But that's not to suggest their history was simple: actually, the Hmong people's saga is long and complex, dating back 8,000-10,000 years to a settled life in China. Over the decades, they continually were forced to escape genocide, abuses, and persecution by becoming nomadic tribes in the mountains of Laos, Vietnam, Cambodia and Thailand. During the Vietnam War, the Hmong were recruited by the CIA to form a "Secret Army" to aid the U.S. in Laos. After the war, the Hmong were relocated outside of Laos, for their safety, and many of these refugees settled in Wisconsin, Minnesota and California. By the way, the word Hmong means "freedom" in their language.
Thailand has remained home to many Southeast Asian Hmong. They come down from the mountains a few times a year to sell their handmade goods. "Paj Ntaub" is the Hmong term for techniques used to decorate clothing, including embroidery, batik, reverse applique, and story cloth stitchery, which developed in refugee camps after the war in Southeast Asia. 'Paj' means flower and 'Ntaub' means cloth.
The round circles used in Scatterballs are often seen on shirt sleeves, belts, and collars, and are part of the Hmong's evolving embroidery traditions:
"Hmong embroidery has changed over the years. Hmong women adapted traditional motifs, and developed new styles of paj ntaub and crafts for commercial purposes, especially targeted to tourists and the Western market. From traditional textile decorations on clothes, they developed tapestries or story cloths. These tapestries first appeared in the 1980s when the Hmong people lived in the refugee camps. There was little opportunity to make money, so the women used their embroidery skills to earn income to support their families. On the story cloths, the women depicted the war experience through embroidery needlework, and similarly the village life that the Hmong were once familiar with when they lived in Laos. [Traditional clothing ornaments] were transformed into tablecloths, pillowcases, and wall decorations. They also inspired household and accessory items including cup coasters, aprons, bags, jewelry, and stuffed animals. These items are now often sold at local art festivals and craft shows. The methods and techniques utilized for making Hmong clothes have changed over time. Items are not necessarily sewn by hand any longer. Cotton and synthetic fabrics are now preferred over hemp as the latter is heavy and difficult to find." – from HmongEmbroidery.org
The Hmong use all the colors of the rainbow, setting off the bright tones with black or dark backgrounds. We think knowing a bit more about the Hmong traditions helps to appreciate even how special our Scatterball pieces truly are. At Stark Raving Cat, we hope you love both the new and the vintage pieces, and our curated collections, as much as we do.
BIG Scatterballs Cat Toys – Bestsellers
Heart Scatterballs – Rainbow Set of 5
Earth, Wind, Fire & Water Scatterball Bonbon Box
3-Star Ornament, Embroidered – Handmade Cat Lover Gift