Our 15 Favorite Small Shops on Etsy [Small Shop, Big Impact]
on Chattersource
July 2020
Keep your ball of string and your flimsy feather on a stick because Stark Raving Cat is here to change the game for cat toys.
An Etsy seller since 2014 shop owner and creator Kate Heyhoe finds her inspiration from products that don't look like cat toys.
"I focus on colorful and eye-catching designs that no one else makes. Especially intricate embroidered ones, like our Lotus and our Magic Mushroom," shared Kate.
We were lucky enough to get a little teaser on what customers can expect to hit the shop this Christmas: Fish-shaped kitty stockings, catnip peppermint candies, colorful mini-robots, gingerbread and snowmen gift sets.
Consider us teased.
A visit to the shop just to read the reviews and check out the customer submitted photos of their cats with the Original Catnip Joints is worth it. Come for weed humor, stay for the quality cat toys you totally won't mind laying around your house.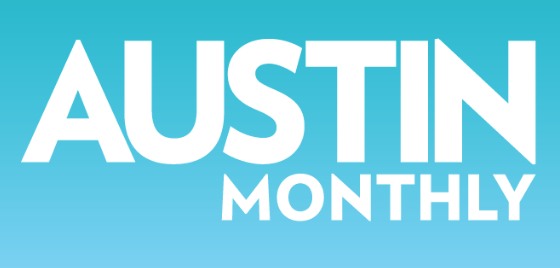 Pamper Your Pet With These Local Goods
on Austin Monthly
September 2019

Gifts For Cat Lovers
on luvfrankiedesigns.com
by Brit from LuvFrankieDesigns
January 2019
If you've got a sense of humor, and enjoy watching your cats run around and get a little cray cray on the catnip, Stark Raving Cat has created these catnip joints…

15 Gift Ideas for Pets
on Vogue.com
by Michaela Bechler
December 2017
Catnip Joints cat toy, from $10…

NSFW 2017: An Unconventional Gift Guide for Pets and Their People
on embracepetinsurance.com
by Lea Jaratz
December 2017
I'm So High
Maybe your cat needs to take a hint and mellow out a little bit. Okay, so these catnip joints probably won't do the trick, but at least while they're buzzed it'll look hilarious. Legal in all 50 states and gift wrap available.

Kitty Christmas Shopping Guide for All Pocketbooks
on sparklecat.com
by Summer Samba
November 21, 2017
Gifts $10 and Under
Catnip Joints Cat Toys
Shopping With Summer – Day of the Dead (and Bats!) From Etsy
on sparklecat.com
by Summer Samba
October 11, 2017
I know it's last minute, but I just had to share some of the cool Day of the Dead cat toys and cat things for humans that I found on Etsy!
Sugar Skull Catnip Cat Toy
These embroidered catnip toys are almost too pretty to bunnykick! Oh, who am I kidding — once you get a whiff of these, you won't be able to contain yourself. You'll also probably want to lick the feather headdress into submission. There are also lots of other cool kitty toys from this store, Stark Raving Cat.

Austin Pet Lovers Will Go Gaga Over These Locally Made Gifts!
on austin.com
by Rebecca L. Bennett
December 5, 2016
If your Austin pet lover hasn't yet discovered the local business Stark Raving Cat, then they and their kitties are seriously missing out on some Leslie–and-Crazy-Carl-level weirdness.
Stark Raving Cat sells just about every catnip-infused product that you could think of and much more…

2015 and 2017 Gift Guides
Catnip is the #1 gift of choice of kitties everywhere and our #1 choice for potent 'nip with explosive cuteness is combo of catnip, toy, charm and stocking is Santa's Rocking Stocking Catnip Joints from StarkRavingcat.com They are famous for their catnip "joints" but if that's too risque, they have catnip candy canes and other holiday and hostess gifts. The products are handmade in Texas and they ship fast worldwide. The scent is irresistible (our Odin went a bit berserk) so store the nip products in a safe place when not in use.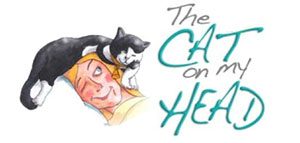 Nippy Goodness Can Be Yours!, a review of Santa's Rocking Stocking Catnip Joints.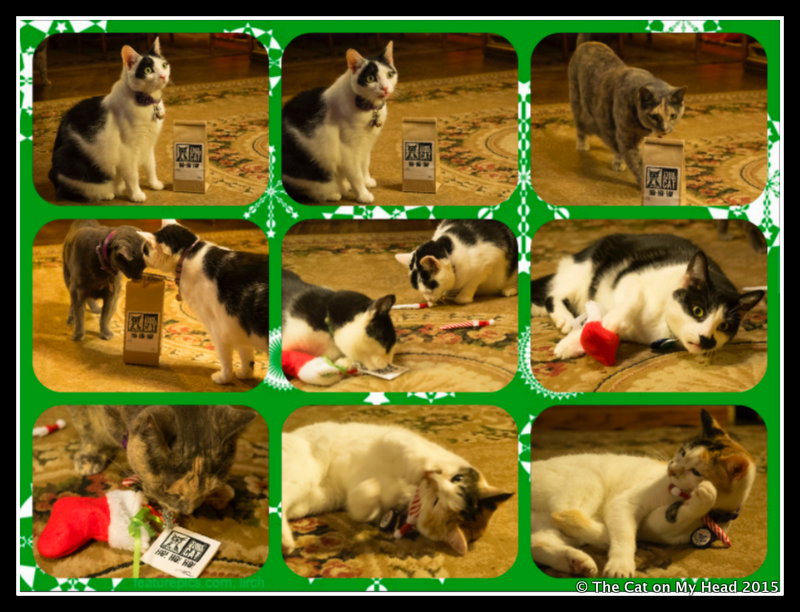 This limited edition stocking is designed for hanging on the Christmas tree or mantle. A red-and-white pair of catnip joints (topped with tiny Santa hats) peeks out from a traditional red stocking. From the ribbon on the front hangs a silver-tone cat-and-mouse charm. It's perfect to add to your cat's collar, a key chain or a necklace to wear it as a pendant.
It is evident from our photos that we liked this product. The nip is so potent it permeated the stocking and it's hang tag. Mauricio wouldn't let go of these items or stop licking the tag. Lily Olivia liked the easy-to-hold joints the best. We think this would be a great gift for all nip-loving kitties. Stark Raving Cat's Santa's Rocking Stocking Catnip Joints also would be a great present…(full review)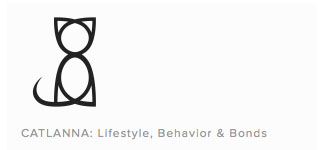 The Ultimate 2015 Catspired Gift Guide (Santa's Rocking Stocking Catnip Joints)

The 2015 Ultimate Holiday Gift Guide For Cat Ladies (Deluxe Neko Earring & Collar Set)

13 Cat-Approved Gifts for Fabulous Felines (And Their Humans) (Catnip Joints)

21 Gifts For People Obsessed With Their Pets (Catnip Joints)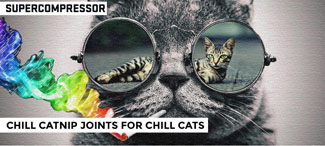 Chill Catnip Joints For Chill Cats
by Jeremy Glass
Aren't cats the best?! They're happy, loyal, quick-witted, and cute. Yes, these squishy little discount-puppies are, indeed, man's second-best friend. To ease the pain of buying a cat only because they were out of dogs, a nice company out in Texas called Stark Raving Cat—whose only fault is loving felines too much—has created Catnip Joints to chill your cat out and let you reevaluate your choices in domestic animals…

…Though I'm pretty sure Catnip Joints are the inverse of marijuana joints. In the sense that all the cats I've ever seen lie around and sleep all day, pausing only to look at you with complete disinterest and excruciatingly slow blinks, until they get their paws on some catnip. Then they're darting and rolling and hopping all over the living room like an epileptic monkey on hot coals…

by Hannah Gale for Metro.co.uk
Anyone who's ever given their feline a helping of catnip will know the sheer euphoria it brings for your cat, but mostly for you, because it's just so darned hilarious…So yeah, totally legal, totally fun and your cat deserves a pack for Christmas.

Legal in all 50 states! These hilarious catnip joints from Stark Raving Cat are hand rolled with only the finest leaves and buds. Perfect for tossing around and enticing kitty to play, before she passes out…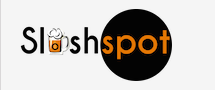 Stoner Kitties Are Gonna Love These Catnip Joints
No need to declaw your kitty this month. These Catnip Joints will have your precious cat cool, calm and collected…

Now Kitties Can Celebrate Furr-20 With These Catnip Joints
Catnip is like ganja for felines, so it only makes sense that it would come rolled up in a joint. Stark Raving Cat is selling a 5-pack of these Catnip Joints for $10. It's about time cats got their own smoke…

Catnip Joints, Cigarette-Style Catnip Toys
for Those Kitties Who Wish to Partake
by Lori Dorn
Stark Raving Cat, a feline-focused company based in Austin, Texas, has designed a creative line of hand-rolled catnip joints made specifically for kitties who wish to partake, without the mess or the irritating smoke of that stinky stuff that humans use to get high. Just don't bogart that joint, my friend…

Catnip Joints
by Sam Jordan
Any Colorado cat knows there's something unusual about those cigarettes his owner is smoking all the time. Now, kitties across the US can indulge in the fun with – here it comes – Catnip Joints…

"Kiffende Katzen" – Handgerollte Catnip-Joints für Katzen
Was für den Kiffer das Marihuana, ist für Katzen die "Katzenminze". Laut Wikipedia ist das genetisch bedingt und bei nur rund 50 Prozent der Schmuse-Tiger ausgeprägt. Zudem ist auch noch unklar, warum geschlechtsreife Katzen überhaupt auf den Geruch so abfahren. Vielleicht ist es ja wie bei den Menschen, die einen finden das Kiffen toll, andere fahren darauf überhaupt nicht ab.
Wie auch immer: Ein amerikanischer Anbieter kam nun auf die Idee die Katzenminze in Joint-Form zu rollen und zu verkaufen…
Also featured on: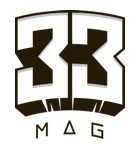 and…
Frequency
Likecool
Trendhunter
Usum (India)