Men who love cats are trending. Now they can get stylish cat toys with special guy-appeal: Catnip Joints, Batnip and ACME Cat Bombs. StarkRavingCat.com handcrafts them with a heaping dose of humor – purrfect gifts for cat daddies, or any cat-lover.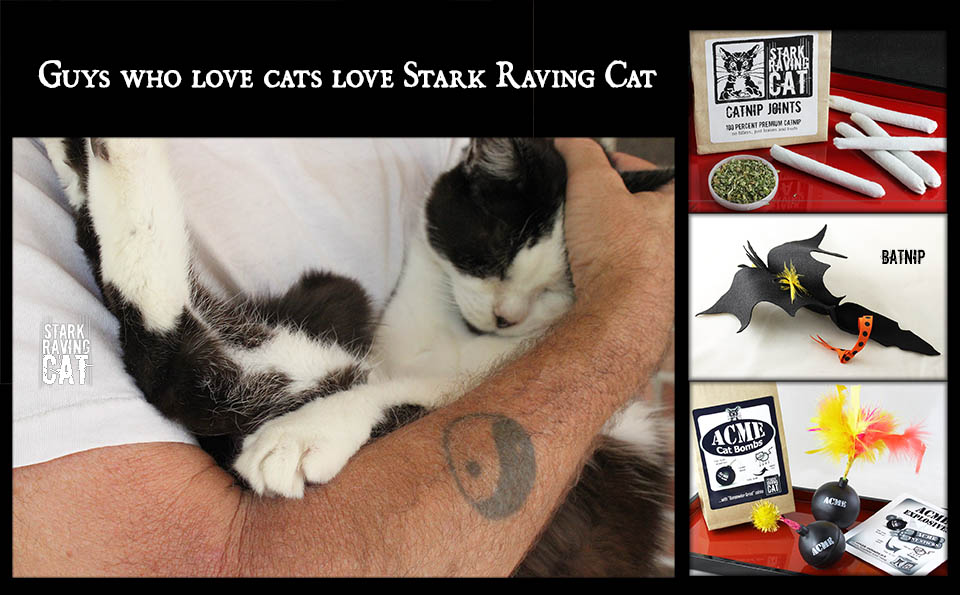 AUSTIN, Texas – September 2015 — Move over cat ladies: cat dudes are hot – and they're looking for cat toys to match their man cave, cat cave, and even their bat cave. Good news: StarkRavingCat.com has heard their need and handcrafts unique toys with cat dudes in mind.
"Cat-love no longer bears social stigma – for either sex," notes Kate Heyhoe, founder of StarkRavingCat.com.
"A few years ago, The New York Times wrote that modern cat ladies are hip, saying 'Having a cat is like wearing a badge of independence.' Now, posts like #guyswithcats on Instagram and MenwithCats.com feature photos of proud men with their cats. I've seen burly bikers nuzzling Fluffy, and 'Guys with Kittens' calendars. Headlines like '10 Reasons to Date Guys with Cats' prove that manly cat-love has finally come out of the closet," adds Heyhoe, noting that TV's Cat Daddy Jackson Galaxy has also made a huge impact. (Even tech billionaire Larry Ellison loves cats: he recently bought a Hawaiian island, one with a sanctuary for 400 feral cats.)
Heyhoe adores men who are cat-crazy. "At StarkRavingCat.com we didn't set out to target men, but we soon realized that guys were buying our Catnip Joints in droves. And women were buying them as gifts for their cat-loving men friends. Our newest toys, Batnip and ACME Cat Bombs, are great gifts for any cat-lover, man or woman, but they also fill a special niche for guys who don't want pink or frou-frou cat toys."
Catnip Joints have become trendy props for cat photos and videos on Instagram, Facebook and YouTube. Stark Raving Cat's Catnip Joints look amazingly like the real thing, but these joints are filled with premium catnip – all leaves, no stems – and potent enough to fire up even the most lethargic cat. They come with a gift card explaining they're "legal in all 50 states…for recreational use." Buy them in sets of three or five, or as a Paraphernalia Pack, with a telescoping "roach clip" that extends 32 inches. The Nirvana Pack features a handmade Indian stash bag, a dimebag of catweed, and three Catnip Joints.
For men who like explosions: Blow up the cat – with ACME Cat Bombs and ACME TNT Sticks. "Cats don't really explode," explains Heyhoe, "but they do go 'kaboom!' in fits of crazy playtime." The black bombs and red TNT sticks, emblazoned with ACME on the side, have fuses that release ultra-powerful "gunpowder grind" catnip when pulled. They come in a gift bag with ACME on it, "and, of course, an official ACME Instruction Manual," adds Heyhoe. "Beep beep."
Cat daddies will be superheroes when they bring home a Baby Batnip. Our original black Goth bat has been replaced by more colorful Baby Batnips. Cats capture the Batnip in the air, swat the wings, bite the head, and kick it with their feet. An optional Telescoping Wand with Clip and Cord make Batnips crawl, bounce, and fly.
"Cats and bats go together," Heyhoe explains, "not just on Halloween, but all year long." On Instagram, there are over 50,000 posts using the hashtag #batcat, while the tag #Baturday puts the 'bat' in #Caturday. "We've added our own hashtag for #BATNIP, and photos of cats and Batnips are already starting to pop up."
"My fellow cat ladies get special love at StarkRavingCat.com, too," notes Heyhoe. They can dress like their cat, with Matching Neko Bell Earrings and Cat Collars . Neko is the traditional Japanese Lucky Cat, and the painted copper bell has a charming jingle to it. "It's the purrfect gift for the cat lady in every guy's life," she adds, "because it says I love both you and your cat."
About StarkRavingCat.com
StarkRavingCat.com makes hip, handmade toys, cards and gifts for cats and cat-lovers, created by Kate Heyhoe in 2014. The small batch, artisanal products range from catnip joints to greeting cards to cat-themed jewelry, and are made near Austin, TX, USA. Besides the web-store at StarkRavingCat.com, there is also a Stark Raving Cat shop on Etsy at http://www.etsy.com/shop/StarkRavingCat, and the company welcomes wholesale inquiries. Kate Heyhoe is an award-winning cookbook author turned Professional Cat Lady; she runs the Coffee and Cats Community on Google Plus and can be found catting around on Instagram, Facebook and Twitter, with CEO Tamale the Cat. Hi-res product images and samples are available. To showcase these goods in new product and holiday gift guides, Contact us.