Etsy, too!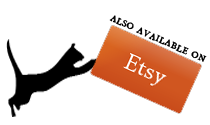 Have an Etsy account? If you prefer you can visit our other store at Stark Raving Cat on Etsy.
Reviews on Etsy
Our average product review on Etsy is 5 out of 5 stars.
Reviewed by Rebecca Oneal
Catnip Joints
My cats never play with any cat toys. But this one, they can't get enough of. Highly recommend!
Reviewed by Nicole Pawloski
Catnip Joints
I bought these for my cat for Christmas & she went nuts before I even opened the package! It cracks me up watching her play with these. I'm always finding her little joints around my apt so I know she's being active. One of the things I loved was how unique they were compared to other cat toys. Will definitely be ordering more in the future! 😊
Reviewed by dssparky73
Scatterballs Cat Toys
Second time I've ordered these because my cat plays with them so much that they end up under furniture and I'm too lazy to unearth them.
Reviewed by Veronica Bosquez
Baby Batnip
Jar jar is very picky about his toys and the second it came out of the package his paws were all over it. It's a winner with him :)
Reviewed by Lina Monica Schlegel
Catnip Joints
ABSOLUTELY LOVE IT!! Cats are thrilled, but beyond the normal "yay we have catnip". They're fascinated! Genius, adorable, hysterical packaging. Excellent product! I want more!