Etsy, too!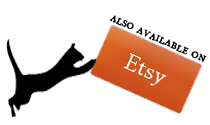 Have an Etsy account? If you prefer you can visit our other store at Stark Raving Cat on Etsy.
Reviews on Etsy
Reviewed by penny allen
Catnip Joints
I can't say enough good things about this! GREAT products, fast shipping, excellent customer service and a whole lot of love. These are AWESOME! Durable, rolled very fat and full of the good stuff! :) The cats love them. Some go crazy, Seamus gets mellow. Do your cat a favor and buy these! Not only are they entertained by the nip, but you will get some laughs too!
Reviewed by Jennifer St Pierre
Catnip Joints
My second time ordering and definitely not my last! My cats love the joints and they also got to try out the new Acme toys which are of course a huge hit with them. Great products and awesome customer service!
Reviewed by misssuzylee3
ACME Cat Bombs
Thank you so much! My cats love these!
Reviewed by Amy Rose
3-Joint Nirvana Gift Set
Love these! I bought three at a time (one for each of my stoner-kitty friends) and each bag was completely unique. I had a hard time deciding which one I liked best! My friends will get a kick out of these. Can't wait to give them as gifts! Thank you!
Reviewed by Amanda Wolan
Catnip Joints
AMAZING! My cat loves them! The packaging is super creative and funny! Absolutely loved them for our furbabies!